Maintaining Your New Concrete Installation
Tips for the winter seasons:
Try to clear all snow and ice from the concrete and not allow it to accumulate to the point where it is unmanageable.
Throughout the winter you must avoid using any salt or de-icing products on your concrete. This is especially critical during the first winter after your new concrete has been poured.
As much as reasonably possible, try to keep your vehicles parked in the garage when not in use. This will minimize the amount of road salt that drips onto your driveway.
The only safe product to put on concrete during the winter is sand. While it will not melt the ice, it will give you traction and help reduce the risk of falling. Do not attempt to use any products that claim they are "safe for concrete". They can still cause problems.
For driveway installations we recommend choosing the exposed aggregate option. This is our most durable finish and it holds up very well to the exposure of salt and de-icing agents.
Tips on sealer maintenance:
The cure and seal compound that we apply to all of our installations is a water repellant that acts as a film or barrier over the concrete.  This film gradually begins to wear away on driveways after two to three seasons, depending on the amount of traffic your driveway receives.  This process can take much longer on other areas such as patios and sidewalks as they do not see any wheel traffic.
Due to this, your concrete must be periodically resealed in order to ensure that it continues to repel moisture.  We recommend having your driveway resealed a minimum of every two to three seasons.
Failing to keep your concrete resealed will allow water to penetrate the surface and could result in the development of surface pop outs.
If your concrete is integrally colored, we recommend periodically resealing those installations as well in order to restore the vibrancy to the color.
On our stamped and exposed aggregate installations we mix a non slip additive in with the sealer.  This wears away with the sealer, so if you notice your concrete becoming slippery, it may be time to reseal it.
If you wish to reseal your concrete yourself, contact us to find out which sealer is best to use on your concrete. Do not use sealers from home improvement stores.
When applying sealer with a roller, use a solvent resistant knap. Wait until a cool, overcast day, preferably in the spring or fall. Avoid resealing in the summer.
If applying the sealer with a sprayer, it must be an industrial grade with a steel tank and hoses and fittings that are resistant to harsh chemicals.
What to expect from your concrete in the future:
Random Cracking
We take great care to ensure that the proper number of contraction joints are placed in our concrete installations.  However, concrete is a rigid material installed over a sub grade that is constantly moving due to the freeze-thaw conditions of our region.  Due to this, random cracking can occur outside of the contraction joints.  A random crack can develop anywhere from 2 to 3 weeks or 2 to 3 years after your concrete has been installed. This is not a flaw in our craftsmanship and is not a cause for concern as long as the concrete does not separate and cause a tripping hazard.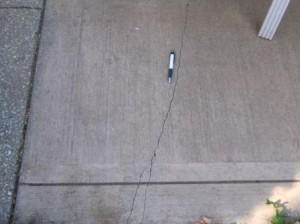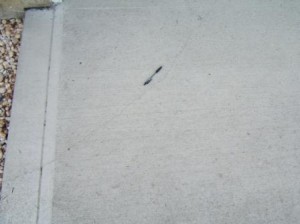 Craze Cracking
Craze cracking, also referred to as map pattern cracking, is the development of hexagonal cracking on the concrete surface. Typically, they are the result of the concrete drying out too quickly on a hot day. It is more noticeable on steel troweled surfaces, but can occur on traditional broom surfaces as well. Usually, craze cracking only becomes visible when the concrete surface is wet. The cracks are never more than an 1/8″ in depth, and pose no harm to the structural integrity or surface durability of the concrete. It is important to understand that unlike random cracking, it is impossible for us to prevent craze cracking from occurring.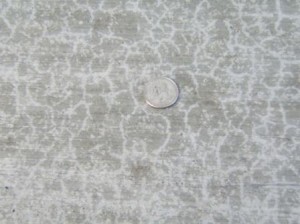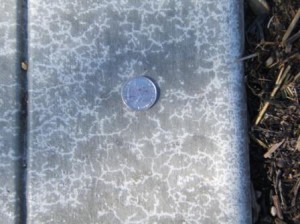 Sand and Aggregate Pop Outs
Depending on the severity of any given winter, surface pop outs may occur as time goes on. This is due to very fine aggregates such as shale, chert, and pyrite that are sometimes mixed in with the sand portion of the concrete mix. ASTM and ODOT standards allow up to one percent (1%) of the concrete mix to consist of these aggregates. From a surface area standpoint, this equates to one pop out for every square foot. These aggregates have a tendency to absorb moisture and expand upon freezing, causing the cement paste covering them to break away. After the paste has broken away you will be able to see an exposed side of the aggregate that is at fault. While pop outs may be unsightly, they are not a cause for concern as they do not harm the structural integrity of the concrete. As you can see in the pictures, they vary in both diameter and concentration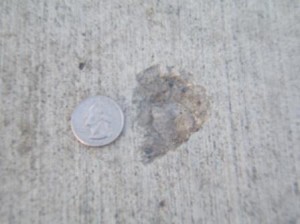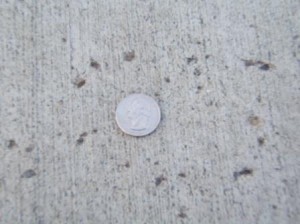 Scaling
Scaling is an issue commonly confused with pop outs and it is important to understand that they are in fact both different. Scaling occurs when entire areas of the concrete surface deteriorate and flake away. Scaling is usually heavily concentrated in specific areas while pop outs are less numerous and more spread out. Scaling is typically a result of any number of potential errors in craftsmanship such as too wet of a slump, over finishing the surface, or inadequate curing. Every so often it can also be traced to a bad load of concrete. This issue is very rare, but if it should happen on your project, let us know so that we can take the necessary steps to remedy the situation.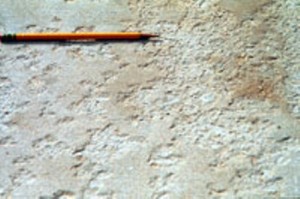 Image Copyright Concrete Construction Magazine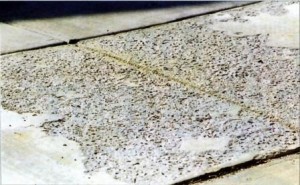 Image Copyright Portland Cement Association